Contributing Blogger, Parker Hill @ www.NewHomeSource.com
If someone were to ask you, "What color would you describe real estate?" you might say gray because of the foundation or even tan because of the framework. However if one were to ask me, I'd say real estate is green. There are a number of reasons why I say this. Real estate is inextricably tied to money. Every bit of the transaction and people involved has something to do with money. It's a business for profit. However, there is a more important reason why I say real estate is green.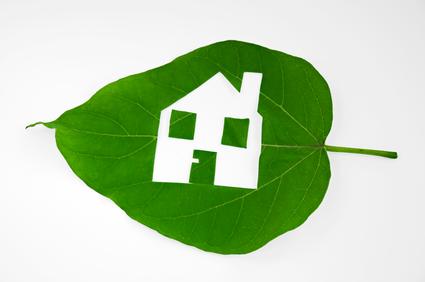 With all of the hype today about green options and becoming a healthier, less wasteful society, the fist thing that comes to many minds is "How can I make my home more green?" It's not such a farfetched idea. After all, real estate is often a person's largest asset. It's where we sleep, eat, play, rest. It's where we spend our time and consume energy. Luckily, no matter your interest or price range, there are plenty of options for you to pursue in an attempt at making a greener home.
I like to think of green estate in three different levels. The first is for those who are interested in living greener without making any new purchases. This is a simple and fairly effective method. Examples of this can include: using a clothesline to dry your clothes, opening windows when you want to let cool or warm air in, changing your clothing before adjusting the thermostat and using the shades to control how much solar warmth you are letting in.
The second level is for those who want to make small purchases to make their home greener. There are a number of small things you can buy to help in your green endeavors. For example, CFL bulbs are a great alternative to traditional...