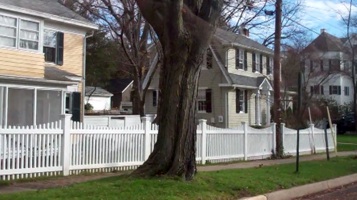 Situated just outside the beltway on the northwest end of the D.C. metro area, the Kensington, Maryland is a good choice for those who are interested in "close in" suburban lifestyle, conveniently close to D.C. amenities. Founded in the 1890s by developer Brainard Warner, the Victorian styles and attractive layout (predominently in the "Town of Knesington) was inspired after Warner took a trip to London. Thanks to the wide selection of homes available in Kensington coupled with the beautiful park-like setting, the neighborhood quickly became a popular summer home destination for D.C. residents. Today, the community stands on its own as a beautiful upscale community that is perfect for year-round living.
Bordered by forested parks and greenbelts, residents of Kensington enjoy plenty of opportunities to enjoy the outdoors while still maintaining easy access to the Metro centers at Bethesda Medical Center and Forest Glen as well as the MARC train station in the heart of Old Town Kensington. The neighborhood itself is also known for its commercial district, which includes a variety of antique stores in the area near Howard Avenue East. As such, Kensington has become a favorite stop for collectors from around the world.
Kensington is an incorporated town with a Mayor and has kept a true sense of identity. The annual events, like the Labor Day Parade, help to create a community feel that is appreciated by those fortunate enough to live in this town.
For those who...