Selling or buying a home in Greenwich Forest soon? Call The Koitz Group (301) 254-6576.
Greenwich Forest Real Estate Market
The majority of the houses in Greenwich Forest were constructed between 1929 and 1941, predominantly in the Colonial Revival and Tudor Revival style, and mostly under the hand of Morris Cafritz, a real estate magnate, civic leader, and philanthropist who saw a rise in the production of automobiles and wanted to build an automobile suburb . The community of Greenwich Forest was inspired by popular developments like the Country Club District in Kansas City and Shaker Heights outside of Cleveland Ohio, as well as local developments by W.C. and A.N. Miller in Wesley Heights and Spring Valley.
Aesthetically, Cafritz's goal was to keep the landscape as in-tact as possible, preserving the natural beauty of the woods. Greenwich Forest's landscape is filled with gently rolling hills and varieties of trees, ranging from chestnut, oak and poplar to dogwood and many other varieties. There are no sidewalks, and most garages are located on the side or rear of houses to reduce street parking and keep Greenwich Forest as natural and beautiful as possible. Houses in Greenwich Forest are also generally set back and well spaced to avoid an overcrowded feel.
Today, Greenwich Forest is a much sought after and affluent community, located just minutes from Downtown Bethesda while maintaining both privacy and a quiet tree-lined landscape in an area that otherwise increasingly feels overdeveloped and congested. Even with modern renovations and expansions, the homes have stayed proportional to their lots and most of the residences have been kept intact. To insure the continuity of this unique neighborhood feel, residents applied for and were granted historic designation for most (but not all) of the homes in 2012, preventing tear downs to those homes identified. Greenwich Forest is also a true community where neighbors know and look out for each other.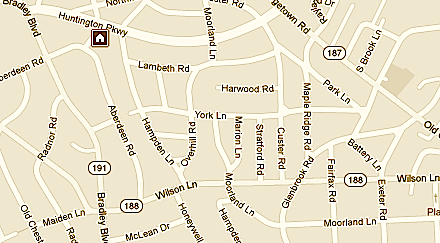 Greenwich Forest's Historic District*