Grosvenor Heights - New Bethesda Luxury Elevator Townhomes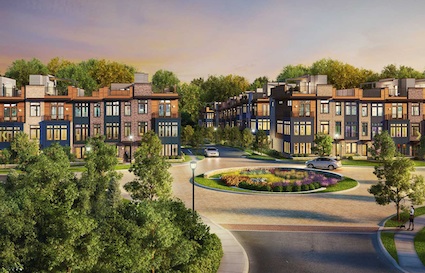 A new luxury townhome community nestled in a wooded 33-acre area site in Bethesda, MD. Well situated near commuting routes of the Capital Beltway, the 270-spur and walking distance to the Grosvenor metro, these impressive contemporary style elevator townhomes offer a peaceful and tranquil existence despite the busy thoroughfares that surround them.
Grosvenor Heights' magnificent town houses are being offered at a starting price of just over $1.1 million and provide the discriminating buyer with a host of luxury appointments. Private two-car garage parking, expansive rooftop terraces, soaring 9 and 10 foot ceilings, floor to ceiling windows, hardwood flooring, gas fireplaces, mud rooms, designer cabinetry with matching appliance panels, granite or corian countertops, energy star high end appliances (Bosch, Sub-Zero, Thermador) and so much more.
Three distinct models offer an array of luxury floor plans ranging from the 2,523 sf, 3-4 bedroom, 2 ½ bath Marshall, to the 3,102 sf, 3 bedroom + recreation room, 2 full and 2 ½ bath Harrison and finally the 3,433 sf, 3-4 bedroom + recreation room, 2 full and 2 ½ bath Cameron. Pricing begins at $1,129,000 (Marshall), $1,284000 (Harrison) and $1,439,000 (Cameron).
Each model offers an elevator, a 2-car garage, an expansive rooftop terrace. For instance, the Harrison model has an impressive 1,287 sf of outdoor space! EYA has focused on creating homes that furnish materials and color pallets that reflect the natural setting of this wooded enclave….casual lifestyle with wide open floor plans and tons of natural light…. elevators that provide for long term comfort … and gorgeous wooded views all year round from rooftop terraces which can be equipped with outdoor kitchens, gas fireplaces.
The 33-acre site sits just inside the 270-spur and just outside the Capital Beltway. You are minutes away by car from a host of shopping, restaurant and retail venues such as Bethesda Row, Georgetown Square, North Bethesda Market, Pike & Rose, Wildwood Shopping Center, Westfield Montgomery Mall. Easy access to the major roads as well as metro's red line affords those working in DC, Bethesda, Rockville and even Virginia accessible commuting options. Its the trifecta of contemporary living - luxury, accessibility, craftsmanship - all in a delightful wooded and serene setting.
A kind note from The Koitz Group: We wanted to make sure it clear that we are a boutique real estate group who do a lot of Bethesda townhome business, but we are not the Grosvenor Heights sales office. For those of you looking for Grosvenor Heights representation, or are just looking for townhomes across the Greater Bethesda area, please feel free to contact us with questions or showing requests (feel free to use the form below or call the number above).
Private Showing? General Real Estate Questions? We're Happy To Help
The Koitz Group, expert luxury Bethesda Maryland Realtors®. Or, you may fill in the form below and send us information on how we can best help you in your real estate needs.
MARSHALL FLOOR PLAN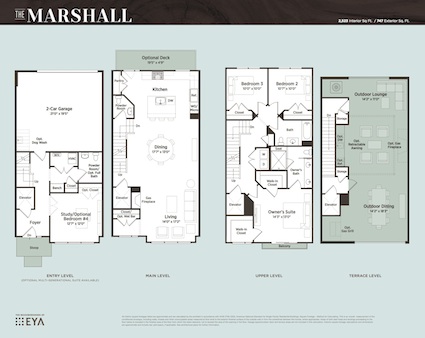 HARRISON FLOOR PLAN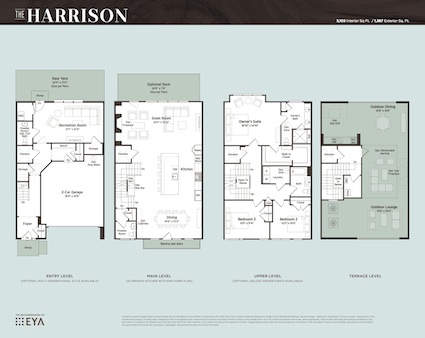 CAMERON FLOOR PLAN